Skip to Main Content
It looks like you're using Internet Explorer 11 or older. This website works best with modern browsers such as the latest versions of Chrome, Firefox, Safari, and Edge. If you continue with this browser, you may see unexpected results.
Watch this space for all manner of fun things related to reading, libraries, and media!
PBS Remixed
There are stories everywhere you look...

by John D. Boswell, aka melodysheep, for PBS Digital Studios.
It's good to be curious about many things...

Mister Rogers remixed by John D. Boswell for PBS Digital Studios.
Why Print Still Matters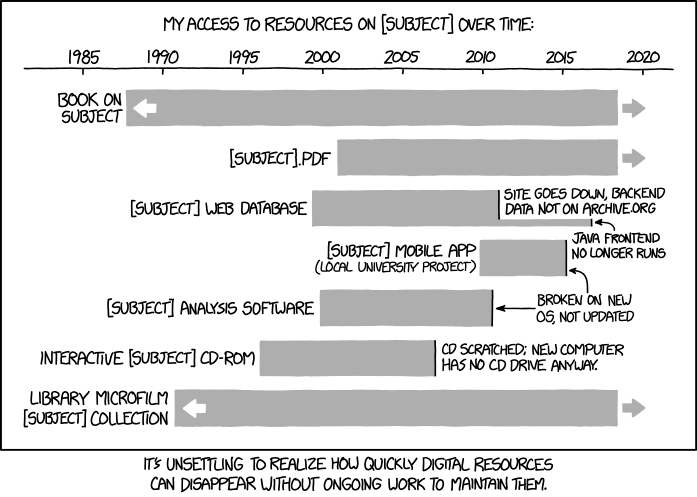 Munroe, Randall. "Digital Resource Lifespan." XKCD, no. 1909, 2017, xkcd.com/1909/. licensed under a Creative Commons Attribution-NonCommercial 2.5 License.
YALSA Awards Lists
Search YALSA's Bookfinder!
Young Adult Library Services Association (YALSA) Awards
NoveList
NoveList is a book recommendation database. Not all books in NoveList are in our catalog, but if you see something you think should be, use the Library Materials Request links to let us know!
Reminder: NoveList is an EBSCO Database; to use it from home you need a password.
ALA Awards and Lists
American Library Association Awards & Lists